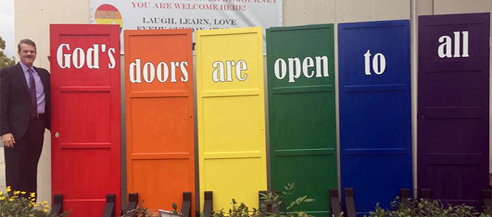 We invite you to worship with our faith community. We are a close-knit group of families, neighbors, and friends who strive to discover God's direction for our lives. We encourage searching minds and spirits as we celebrate together our faith in God, Jesus Christ, and the Holy Spirit, through the guidance of the Holy Scriptures. Emphasizing individual choice and conviction, members follow the Word of God according to the dictates of their own consciences. Our church is called "Congregational", reflecting our heritage in the New England Pilgrim experience in which local congregations retain control of their own decisions and direction. We are also a member church of the United Church of Christ denomination, which is dedicated to realizing God's just and loving purpose in the world.
Learn more about the United Church of Christ
Mission Statement
In response to God's all-encompassing presence and unconditional love, we at San Marino Congregational Church a worship-centered community, are spreading the Good News of God's Love to all, working to heal human divisions, and striving for justice and peace.
Open & Affirming Statement
San Marino Congregational United Church of Christ is an Open and Affirming church. We affirm the rich complexity of God's creation, which includes every person and many forms of family. We welcome into our open communion and community God's beloved children of all ethnicities, nationalities, ages, genders, sexual orientations, physical or mental limitations, economic and family circumstances, and faith backgrounds. We affirm and celebrate all loving and committed relationships. We commit ourselves to the defense of the spiritual, civic, and human rights of all people, and to the promotion of their well being in our Church and communities.