OCTOBER 2020
Wearing a mask shows LOVE!
OUR NEXT SPECIAL OFFERING
As with your regular offering, we invite you to send your gifts for Neighbors in Need to the church office made out to San Marino Congregational Church, UCC with NIN in the memo.  You may also give to this offering through PayPal by utilizing the link found HERE – simply designate "Neighbors in Need" in the memo description space provided.
Below, read about a NIN grant recipient and how they are serving their neighbors.
Houston teens learn wage activism from working adults like them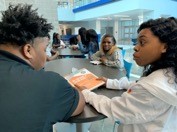 This summer, with a grant from the United Church of Christ's Neighbors in Need offering, 24 high school students from an economically challenged Houston neighborhood learned about activism and carried out a local campaign for a $15 minimum-wage law.
The idea came from the basic insight that many Houston residents find it hard to make ends meet, especially workers in fast-food and other service industries. The Rev. Darnell Fennell serves some of those people in both his callings. He is pastor of Just Love Church, affiliated with the UCC and the Christian Church (Disciples of Christ). He also teaches high school social studies.
With a background in community organizing, Fennell knows people don't have to sit still for economic injustice. He knows the wider UCC feels the same, as seen in statements such as a 2017 General Synod resolution, "A More Just Economy: $15 Minimum Wage, Living Wages and Job Creation." So he sought the NIN grant to introduce young people to local activists in the national Fight for $15 wage campaign and involve them in learning by doing.
A MESSAGE FROM OUR CONFERENCE MINISTER
Friends,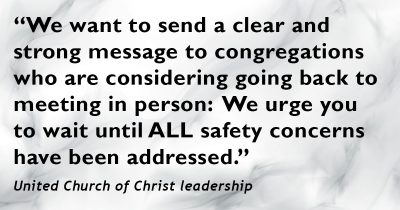 By now, you have probably heard about the President's announcement about opening churches for worship. I know that many of you can't wait to congregate, again. Having said that, I would caution each and everyone of you about opening your doors too soon. Instead, I would like to invite you to wait until the order is given by the Governor and ratified by your city or county. Only the experts on the ground know when is a safe time to do so. In the meantime, thank you for all you are doing! I know these are trying times! I hold you in my daily prayers, everyday!
Peace,
Felix
Rev. Dr. Felix C. Villanueva, MCC
Conference Minister

SECOND MONDAYS MUNCHIN' LUNCHEON
CANCELLED UNTIL FURTHER NOTICE
FOOD FORWARD FRUIT PICK
CANCELLED UNTIL FURTHER NOTICE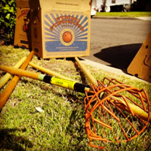 Food Forward was recently awarded a commendation from the US Environmental Protection Agency, alongside myriad national food suppliers and purchasers like Wegmans, Disneyland, MGM Resorts and UC Davis, for the environmental impact resulting from our food recovery work in 2013-17.
One of the things we LOVE about [FF's] UCLA partnership is that it is manned and woman-ed by students who are feeding other students. What many people don?t realize is that there is a high percentage of students who experience food insecurity. Current estimates show this number to be roughly 20% at UCLA, with students choosing to buy books over food. Food Forward's program gives these folks a hand by creating an eco-system where the UCLA community can help its own who are struggling to make ends meet.
Watch for SMCC Picks
Watch your email for announcements on future picks with Food Forward. We look for available activities on the third Saturday morning of each month and will pass that info on to you so that you can join the effort. There is a quick registration on the Food Forward site that allows you to sign up for a pick of your choice and lets Pastor Donald know that he has volunteers. www.foodforward.org
LUNCHES FOR THE HOMELESS
CANCELLED UNTIL FURTHER NOTICE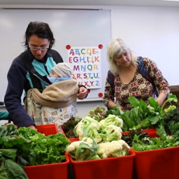 Union Station Homeless Services Sack Lunch Project
Here's a way to be of service through your beloved church! Union Station Homeless Services is part of a premier group of human services agencies in L.A. County that are leading the way to ending homelessness in our community. Union Station is the San Gabriel Valley's largest social service agency assisting homeless and very low-income adults and families. We are looking to be of service to Union Station by helping out with their programs that provide food for those in need. Our mission will be to provide sack lunches. We will come together at the church kitchen third Tuesday of the month to make the lunches, which will then be taken to the station for distribution. Please let Marcia Albrecht know if you can help prepare the lunches (all food will be provided and in the kitchen). You can email her at: mla2575@aol.com.
SPIRITUAL PRACTICES GROUP
CANCELLED UNTIL FURTHER NOTICE
"Light for the Path" will gather in the Narthex before embarking on a guided meditation.
All are welcome.