MISSION THANKS
Local Organizations Express Their Gratitude
The thanks continue to pour in from the many organizations who have received gifts from our Mission fund for 2022. Here are more of their words of gratitude.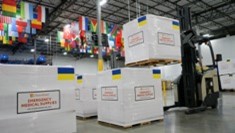 From Direct Relief: Thank you for being part of Direct Relief [with a gift to support the Ukraine Crisis]. On behalf of all the people we collectively serve, I want to extend my deep gratitude to San Marino Congregational Church for your generous support.
Your involvement and participation in Direct Relief improves the health and lives of people living in the most vulnerable situations. Thanks to you, and others like you, together we can ensure the critically needed medicines and resources are being delivered to the right people, in the right places, with the right partners.
Direct Relief works in the U.S. and internationally to equip doctors and nurses with life-saving medical resources to care for the world's most vulnerable people. www.directrelief.org
WE ARE A "FIVE FOR FIVE" CHURCH
United Church of Christ Special Offerings
1. OUR CHURCH'S WIDER MISSION BASIC
Supports Conference and national ministries of Wider Church Ministries, Local Church Ministries, Justice and Witness Ministries, General Ministries, and the Pension Boards.
2. ONE GREAT HOUR OF SHARING
Supports international programs of health, education and agricultural development, relief, and refugee assistance. Wider Church Ministries, Global Sharing of Resources administers the OGHS fund for the United Church of Christ. The offering is received most often during Lent, with the fourth Sunday suggested as the Dedication Day.
3. STRENGTHEN THE CHURCH
Supports leadership for new and revitalizing congregations, programs for youth and young adults, leadership development, efforts to grow as a multiracial, multicultural church, open and affirming and accessible to all, and the Stillspeaking Ministry. These ministries are carried out by UCC Conferences and through the national setting of Local Church Ministries. The offering often is received on Pentecost.
4. NEIGHBORS IN NEED
Supports ministries of justice and compassion throughout the United States, including the Council for American Indian Ministries (CAIM). NIN funds are used for justice, advocacy, and direct service projects supported through the national setting of Justice and Witness Ministries. The offering is received annually on World Communion Sunday, the first Sunday of October.
5. THE CHRISTMAS FUND
Supports pension and health premium supplements for low-income retired church workers, emergency assistance for clergy families in need, and Christmas checks for hundreds of annuitants, as administered by the UCC Pension Boards. The offering is received the Sunday before Christmas.