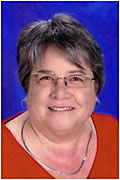 PRESCHOOL NEWS
by Janet Beaulieu, Preschool Director

Those who give the most love, seem to have the most love.  Maybe this is more biblical than mathematical.  Children's books try to quantify love for us. " I Love You To The Moon And Back", "I'll Love Your Forever" these titles try to give us a measurement for love, but only true love can teach us what love feels like. We see the love between parent and child every day at the preschool.
Our children will enjoy the parties that celebrate Valentine's Day.  They will give their friends, teachers and parents cards and treats.   All of this will celebrate relationships that we are making.
Please celebrate the relationships of your life.  Relationships are the compass that move us in the direction of our best self.  Measure your blessings by the love in your life.  Give children a place to feel love, trust and care and you will be putting your best in the future.
Blessings,
-Janet Beaulieu, Preschool Director
Visit the Preschool's Website
Email: sanmarinopreschool@gmail.com
Preschool Phone: (626) 292-2082
Mission Statement 
We at San Marino Congregational Preschool are dedicated to providing preschool aged children with a safe nurturing environment which allows the children to embrace diversity and grow socially, emotionally, creatively and intellectually at their own pace.
Preschool Philosophy 
At San Marino Congregational Preschool, believe that children develop at their own pace. It is our job, as early childhood professionals, to provide a program which encourages this natural unfolding process for each child. The best way to do this is by providing a well rounded program using open ended materials with a multitude of hands on experiences. We provide a child centered curriculum in which a child can grow to be a well rounded individual . We focus on providing opportunitities for the child to develop intellectually, emotionally, socially and physically. We put a high value on each child's individuality and creativity. Our preschool strives to prepare children for future successful school life by helping them learn to solve problems, get along with others, communicate effectivly and develop confidence.