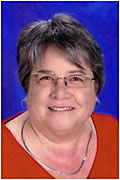 PRESCHOOL NEWS
by Janet Beaulieu, Preschool Director

Our summer program has reached the halfway point. It has been a very busy summer. Our hot weather has not started, in fact it rained the first day of summer. I refuse to believe this is a sign of irony to come.
Our teaching staff will have a daylong training with hands-on training in music, yoga and construction. The Church Related Early Child Education Fellowship organization will sponsor this event in San Marino this year on July 20th. The speakers are inspiring, and will be helping teachers provide the best care and education in the classroom.
We will end our summer program on July 26th. Our focus will turn to the fall program. Tours are happening this summer and enrollment is coming in slowly. Two years ago we expanded our afternoon program, with David's blessings. It is now a very popular program that has allowed us to service customers that our neighboring schools cannot.
We used two new substitute teachers this summer that were a real blessing to a highly enrolled summer program. They were excellent teachers and we hope to have a continued relationship with them.
At the end of the month, our staff will enjoy their much-deserved vacation in August. Mr. Yonnan will await the arrival of his third son. The rest of the staff will enjoy more sleep and rest for August.
Blessings,
-Janet Beaulieu, Preschool Director
Visit the Preschool's Website
Email: sanmarinopreschool@gmail.com
Preschool Phone: (626) 292-2082
Mission Statement 
We at San Marino Congregational Preschool are dedicated to providing preschool aged children with a safe nurturing environment which allows the children to embrace diversity and grow socially, emotionally, creatively and intellectually at their own pace.
Preschool Philosophy 
At San Marino Congregational Preschool, believe that children develop at their own pace. It is our job, as early childhood professionals, to provide a program which encourages this natural unfolding process for each child. The best way to do this is by providing a well rounded program using open ended materials with a multitude of hands on experiences. We provide a child centered curriculum in which a child can grow to be a well rounded individual . We focus on providing opportunitities for the child to develop intellectually, emotionally, socially and physically. We put a high value on each child's individuality and creativity. Our preschool strives to prepare children for future successful school life by helping them learn to solve problems, get along with others, communicate effectivly and develop confidence.