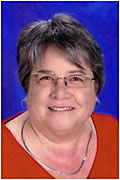 PRESCHOOL NEWS
by Janet Beaulieu, Preschool Director

Thankful for Children!
Our staff had a wonderful training day on October 19th with John Funk. He presented new ideas to address science, technology, engineering, and math into everyday, child friendly, opportunities to learn. We shared fellowship with other church related early educational programs. We were hosted by, Hollywood Presbyterian Church, with over 350 in attendance.
In November, the children will be doing a social studies unit on family cooking. We will explore many family traditions and food favorites. This is the beginning of our all-school tradition known as "Soup Day." This is a family lunch. The children bring vegetables for our soup. They are washed and cut for the soup, by children and staff. We will sing about our bountiful harvest and share our vegetable soup, with preschool families, the Tuesday before Thanksgiving.
We will reflect on our thankfulness this month. We are so blessed with our preschool staff, preschool families and the children that bring joy to the work that we do. We are so thankful for the preschool ministry of this church and all those who send blessings for our success.
We will retreat to our own family traditions and celebrate Thanksgiving November 23rd, 24th and 25th. We wish everyone a bountiful table and loving environments.
As we begin the Holiday season, we plan to participate with the Chamber of Commerce event "Christmas around the Drive" November 30th . We will welcome local families for a tour, children's activities and giveaways.
Blessings,
Janet Beaulieu, Preschool Director
Mission Statement 
We at San Marino Congregational Preschool are dedicated to providing preschool aged children with a safe nurturing environment which allows the children to embrace diversity and grow socially, emotionally, creatively and intellectually at their own pace.
Preschool Philosophy 
At San Marino Congregational Preschool, believe that children develop at their own pace. It is our job, as early childhood professionals, to provide a program which encourages this natural unfolding process for each child. The best way to do this is by providing a well rounded program using open ended materials with a multitude of hands on experiences. We provide a child centered curriculum in which a child can grow to be a well rounded individual . We focus on providing opportunitities for the child to develop intellectually, emotionally, socially and physically. We put a high value on each child's individuality and creativity. Our preschool strives to prepare children for future successful school life by helping them learn to solve problems, get along with others, communicate effectivly and develop confidence.