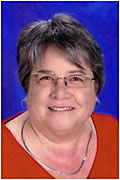 PRESCHOOL NEWS JULY 2020
by Janet Beaulieu, Preschool Director

Our staff had two training days before the start of our summer program. It was a beautiful site to be together six feet apart. We began with a prayer to guide and protect us. We had pages and pages of material that was required training from the State.
I asked each staff person what they had learned during the time of our shelter in place. Family time was renewed. Card games and socializing as a family was once lost in our busy schedules. Learning about a newborn on a 24-hour clock deepened a bond. Phyllis said she learned to let go worrying about the little stuff. In the same house, just a chair away, I learned how important the little stuff is.
Our school was set up for independent play and social distancing. Two-year -olds really like an environment that does not harp on sharing. We were required to have touchless wastepaper baskets, soap dispensers and paper towel dispensers. We have always been the cleanest preschool in the area.
On the day of school, parents and children arrived with their masks on. Temperatures are taken before they can enter the gate. Parents are no longer allowed on the preschool campus. Each child has their own sign in sheet and nothing is shared. We had eight children the first day. I have to tell you, they were wonderful children. They were so tired of their parents, that there was not one tear.
Our journey has taken a new road but the adventure is still abundant. The children will teach us to be resilient. They know that all superheroes wear masks.
Blessings,
-Janet Beaulieu, Preschool Director
Visit the Preschool's Website
Email: sanmarinopreschool@gmail.com
Preschool Phone: (626) 292-2082
Mission Statement 
We at San Marino Congregational Preschool are dedicated to providing preschool aged children with a safe nurturing environment which allows the children to embrace diversity and grow socially, emotionally, creatively and intellectually at their own pace.
Preschool Philosophy 
At San Marino Congregational Preschool, believe that children develop at their own pace. It is our job, as early childhood professionals, to provide a program which encourages this natural unfolding process for each child. The best way to do this is by providing a well rounded program using open ended materials with a multitude of hands on experiences. We provide a child centered curriculum in which a child can grow to be a well rounded individual . We focus on providing opportunitities for the child to develop intellectually, emotionally, socially and physically. We put a high value on each child's individuality and creativity. Our preschool strives to prepare children for future successful school life by helping them learn to solve problems, get along with others, communicate effectivly and develop confidence.