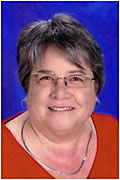 PRESCHOOL NEWS
by Janet Beaulieu, Preschool Director

Our school year opened to a mostly happy group.  There were some tears that faded quickly as the teachers provided fun and comfort.  Our enrollment is almost full. It has been two years since we opened our extended day to 4:30pm. Nearly half of the children stay for a full day program.
The children really enjoyed our Family Pizza Day.  We had a great attendance and we went through 20 pizzas.  Our new families had a chance to meet and share in fellowship as our returning families enjoyed their reunion.  Some of these friendships will last many years.
Our teaching staff will have a daylong training October 17th. The program will be on teaching in the areas of science, technology, engineering and math.   The Church Related Early Child Education Fellowship organization will sponsor this event at the La Crescenta Presbyterian Church this year.
Our Halloween celebrations will have pumpkin fun and we will have a costume parade and "Trunk or Treat" exchange in our parking lot on October 31st.
As we begin this harvest season, we are thankful for all of the blessings that we can see and stay prayerful to hearts of children and families in hardship that we cannot see.  Our children are everything the future holds.  Help us pray for the children in our care and the children we cannot reach.
Blessings,
-Janet Beaulieu, Preschool Director
Visit the Preschool's Website
Email: sanmarinopreschool@gmail.com
Preschool Phone: (626) 292-2082
Mission Statement 
We at San Marino Congregational Preschool are dedicated to providing preschool aged children with a safe nurturing environment which allows the children to embrace diversity and grow socially, emotionally, creatively and intellectually at their own pace.
Preschool Philosophy 
At San Marino Congregational Preschool, believe that children develop at their own pace. It is our job, as early childhood professionals, to provide a program which encourages this natural unfolding process for each child. The best way to do this is by providing a well rounded program using open ended materials with a multitude of hands on experiences. We provide a child centered curriculum in which a child can grow to be a well rounded individual . We focus on providing opportunitities for the child to develop intellectually, emotionally, socially and physically. We put a high value on each child's individuality and creativity. Our preschool strives to prepare children for future successful school life by helping them learn to solve problems, get along with others, communicate effectivly and develop confidence.