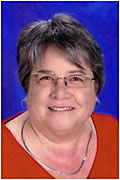 PRESCHOOL NEWS
by Janet Beaulieu, Preschool Director

May brings in a time to pause and appreciate some very special people. Our mothers and grandmothers make our lives rich with love and care. We celebrate that love on Mother's Day. May 6th-May 10th is teacher appreciation week. Our parents and director appreciate this staff every day. The parents help with staff appreciation, all staff receive some gifts.
We will be celebrating cultures at our annual International Day May 17th. The children will sing and share a food potluck of many cultures. This is one of our favorite family celebrations.
After the Memorial Day holiday, we will be winding down for our end of the year picnic at Lacy Park May 29th. The teachers will provide games and activities for the children. The parents will enjoy a potluck lunch and fellowship. This event formally ends our school year. The children have grown so much in such a short time.
This school year has gone by so fast. We served a large group of children this year. We focus our prayers on summer school and fall enrollment. Tours and registrations are coming in almost daily. Our extended-day program has been very popular this year. We have been on the brink of running out of chairs and beds. Our blessings to Miss Avelinda and Mr. Yonnan for making that program so strong.
All of our staff will be returning for the next school year. I have been so fortunate to lead the best staff. Each of these teachers bring amazing talents to our program and they work together very well. I would like to add a staff member that could sub and work with all staff that needed extra help. Please join us in praying for the "right" person.
Blessings,
-Janet Beaulieu, Preschool Director
Visit the Preschool's Website
Email: sanmarinopreschool@gmail.com
Preschool Phone: (626) 292-2082
Mission Statement 
We at San Marino Congregational Preschool are dedicated to providing preschool aged children with a safe nurturing environment which allows the children to embrace diversity and grow socially, emotionally, creatively and intellectually at their own pace.
Preschool Philosophy 
At San Marino Congregational Preschool, believe that children develop at their own pace. It is our job, as early childhood professionals, to provide a program which encourages this natural unfolding process for each child. The best way to do this is by providing a well rounded program using open ended materials with a multitude of hands on experiences. We provide a child centered curriculum in which a child can grow to be a well rounded individual . We focus on providing opportunitities for the child to develop intellectually, emotionally, socially and physically. We put a high value on each child's individuality and creativity. Our preschool strives to prepare children for future successful school life by helping them learn to solve problems, get along with others, communicate effectivly and develop confidence.