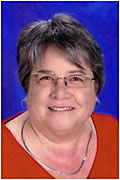 PRESCHOOL NEWS
by Janet Beaulieu, Preschool Director

The new school year is here.  Our staff will have an in-service week, beginning September 29th for three days to be ready for school.  Our returning staff will be Miss Avelinda, Miss Vanessa, Miss Phyllis, Mr. Yonnan, and Miss Dan.  A new staff member for us this year will be Miss Liwen.  I don't think I could ask for a better staff.
Our children and parents will meet the teachers on September 4th and 5th.  Our first day of school will be September 6th.  September 7th we will have a traditional family pizza lunch for parents and children at noon.  This is a great way for our families to get to know each other.
Our facility looks amazing because of Mr. Toy's attention to details.  The staff will have a great environment to teach the children.
We have some spaces in our program that we hope to fill soon.  Our extended day program is growing and we hope to add a music class and a Chinese language class to our extra curriculum choices.
I am full of excitement for the possibilities that this school year will bring.  Let me say thank you for all of the support and encouragement that I have had.  Thank you for making this a wonderful place for children to learn.
Blessings,
Janet Beaulieu, Preschool Director
Mission Statement 
We at San Marino Congregational Preschool are dedicated to providing preschool aged children with a safe nurturing environment which allows the children to embrace diversity and grow socially, emotionally, creatively and intellectually at their own pace.
Preschool Philosophy 
At San Marino Congregational Preschool, believe that children develop at their own pace. It is our job, as early childhood professionals, to provide a program which encourages this natural unfolding process for each child. The best way to do this is by providing a well rounded program using open ended materials with a multitude of hands on experiences. We provide a child centered curriculum in which a child can grow to be a well rounded individual . We focus on providing opportunitities for the child to develop intellectually, emotionally, socially and physically. We put a high value on each child's individuality and creativity. Our preschool strives to prepare children for future successful school life by helping them learn to solve problems, get along with others, communicate effectivly and develop confidence.