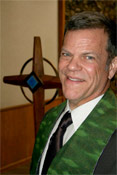 We invite you to worship with our faith community. We are a close-knit group of families, neighbors, and friends who strive to discover God's direction for our lives. We encourage searching minds and spirits as we celebrate together our faith in God, Jesus Christ, and the Holy Spirit, through the guidance of the Holy Scriptures. Emphasizing individual choice and conviction, members follow the Word of God according to the dictates of their own consciences. Our church is called "Congregational", reflecting our heritage in the New England Pilgrim experience in which local congregations retain control of their own decisions and direction. We are also a member church of the United Church of Christ denomination, which is dedicated to realizing God's just and loving purpose in the world.
Pastor Donald B. Shenk
Read More…
FOR VISITORS 
SUNDAY WORSHIP
10 a.m.
Communion Every First Sunday
RICH FOOD
Stillspeaking Devotional by Matt Laney
"You spread a table before me in the presence of my enemies;
you anoint my head with oil;
my cup overflows." – Psalm 23:5
Like most people, I enjoy eating out.
However, I don't sit comfortably in restaurants with white table cloths and multiple forks per setting; with servers who "sir" and "ma'am," offer a taste of the wine before pouring a glass and ask if you want fresh ground pepper sprinkled over your dish.
It's not because I'm super pious and humble. It's because I'm cheap. Even when someone else pays, all I can hear in fancy restaurants is ka-ching, ka-ching, ka-ching.
According to Psalm 23, God has no compunctions about upscale dining, especially when times are tough. "You spread a table before me in the presence of my enemies."
This is an astounding claim. Just when we think all is lost, God treats us to a fancy dinner!
"Come," says the Host of Hosts, "I've set the table for you and prepared a gourmet meal. All around this table are your enemies: illness, worries, addiction, longings, heartbreak. Let them observe your cup overflowing with pricey wine. Let them see your head anointed with expensive oil. Let them witness how important you are to me."
When God goes to battle for you, Her weapons of choice are a white tablecloth, a few forks and a goblet. Nothing can prevail against that kind of love. Not even my frugality.
Prayer
Holy Host, when you prepare a table in the presence of my enemies, let me feast without grumbling or counting the cost … for You have prepared and paid for it all.