United in Spirit and inspired by God's grace, we welcome all, love all, and seek justice for all.


We

are

the

United

Church

of

Christ.
We invite you to worship with our faith community. We are a close-knit group of families, neighbors, and friends who strive to discover God's direction for our lives. We encourage searching minds and spirits as we celebrate together our faith in God, Jesus Christ, and the Holy Spirit, through the guidance of the Holy Scriptures. Emphasizing individual choice and conviction, members follow the Word of God according to the dictates of their own consciences. Our church is called "Congregational", reflecting our heritage in the New England Pilgrim experience in which local congregations retain control of their own decisions and direction. We are also a member church of the United Church of Christ denomination, which is dedicated to realizing God's just and loving purpose in the world.
BALANCING THE BUDGET
Stillspeaking Devotional by Emily C. Heath
"Jesus went up the mountain and sat down there with his disciples…When he looked up and saw a large crowd coming toward him, Jesus said to Philip, 'Where are we to buy bread for these people to eat?' He said this to test him, for he himself knew what he was going to do."
-John 6:3-5
Churches love balanced budgets. It's true. Ask just about any congregation's leadership about the health of their church and often, before you even hear about discipleship, you will hear about whether the budget is in the black or in the red.
I understand why that's important. We are certainly called to be good stewards. But I have never yet met a congregation who thought they had enough.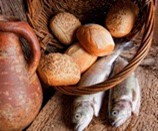 By this point in his ministry, Jesus had already amassed a following. But when the crowds came to hear him on the mountain, his disciples looked out and saw not a blessing, but a problem. Jesus sensed their anxiety and asked them, "How are we going to feel all these people?" Philip replies that it would take six months' worth of wages for everyone to even get a bite.
It seems Jesus and the disciples had not paid much attention to the food line item in the first church's budget.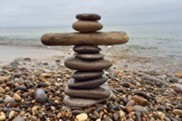 And yet, Jesus does something no one expects. When everyone else is stuck in a scarcity mindset, Jesus is instead living in the abundance. He looks out, finds what the people are willing to give, and blesses it so that it may be a blessing to others.
Maybe Jesus was trying to tell us something there. Maybe, just maybe, we have enough.
Prayer
God of abundance, give us gratitude for what we already have and turn our hearts away from worshiping bottom lines and towards celebrating the abundance that comes from you. Amen.
TAKE A MINUTE FOR YOURSELF
Music for Meditation
Just added to our YouTube channel is a beautiful selection of Albert's preludes from our worship services. Take some time to listen while you pray, journal, read or relax.
https://youtu.be/tuc0sr5vBns