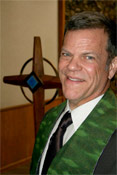 We invite you to worship with our faith community. We are a close-knit group of families, neighbors, and friends who strive to discover God's direction for our lives. We encourage searching minds and spirits as we celebrate together our faith in God, Jesus Christ, and the Holy Spirit, through the guidance of the Holy Scriptures. Emphasizing individual choice and conviction, members follow the Word of God according to the dictates of their own consciences. Our church is called "Congregational", reflecting our heritage in the New England Pilgrim experience in which local congregations retain control of their own decisions and direction. We are also a member church of the United Church of Christ denomination, which is dedicated to realizing God's just and loving purpose in the world.
Pastor Donald B. Shenk
Read More…
FOR VISITORS 
SUNDAY WORSHIP
10 a.m.
Communion Every First Sunday
SAN MARINO POLICE DEPARTMENT PROJECT –
NEW NEEDS!!
SAN MARINO POLICE DEPARTMENT PROJECT-VERY SPECIFIC CURRENT NEEDS – if you can donate, please do.
Our local police department has been so thankful for the care bags we have been providing for them to hand out to the homeless and others in need. WE RECEIVED A RECENT UPDATE and are now going to be creating 60 bags on January 15, 2020. WE NEED YOUR DONATIONS! Please see UPDATED list below:
Here is what we currently still need prior to Jan. 15. Thank you!
60 16-ounce bottles of water
94 Tuna or Chicken Salad ready-to-eat packets
(i.e., "Starkist Creations" or "BumbleBee Snack-On-The-Run")
60 fruit cups or applesauce cups