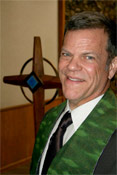 We invite you to worship with our faith community. We are a close-knit group of families, neighbors, and friends who strive to discover God's direction for our lives. We encourage searching minds and spirits as we celebrate together our faith in God, Jesus Christ, and the Holy Spirit, through the guidance of the Holy Scriptures. Emphasizing individual choice and conviction, members follow the Word of God according to the dictates of their own consciences. Our church is called "Congregational", reflecting our heritage in the New England Pilgrim experience in which local congregations retain control of their own decisions and direction. We are also a member church of the United Church of Christ denomination, which is dedicated to realizing God's just and loving purpose in the world.
Pastor Donald B. Shenk
Read More…
A KIDNEY FOR CYNTHIA
Be a Part of the Body of Christ by Finding a Part of the Body!
A
s many in our church family are aware, our amazing Cynthia Maldonado has been seeking a kidney for a very long time. In fact, it will be four years in July. Being way down on the list to receive a kidney, she has endured many health challenges over the last years and has to sit through dialysis three times a week for four hours at a time.
If you know Cynthia well, you know that this is a big step she's taking to put this out here and let us know she'd like help in finding a new kidney.
The need for kidneys in the United States is great and the number of people willing to donate a kidney whether before or after their deaths is small. Currently, the estimated time to receive a cadaver kidney is eight years, and Cynthia is only half way there. Please prayerfully consider whether you are being called to consider donating a kidney for Cynthia to help give her a far better quality and quantity of LIFE.