Welcome to San Marino UCC
United in Spirit and inspired by God's grace, we welcome all, love all, and seek justice for all. We are the United Church of Christ.
During this time of the pandemic when it is safer to not meet in person, our Sunday Worship services are presented on YouTube every Sunday available at 10am. Check back here for links or check our Facebook page.
A SERVICE PROJECT FOR LENT
Helping Our Friends in Deed (safely!)
You are invited to help provide very needed items during the next few weeks for our Friends in Deed at the Bad Weather Shelter. Items needed are listed below and can be safely dropped off in the box outside our church office door in the breezeway.
Please only drop off items during the following four times:
Tuesdays and Wednesdays between 3 and 5 pm, starting this Tuesday, Feb. 23.
THE LAST DAY TO DROP OFF IS WEDNESDAY, MARCH 3.
After depositing your items, please press the RING doorbell next to the office door to let Toy know you've made a drop off so he can bring the items in after you've left.
THANK YOU!
Items requested: umbrellas, tarps, men's shoes (specifically size 10), and men's underwear and plain t-shirts.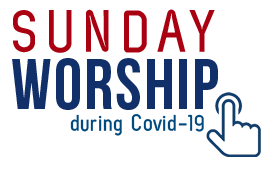 February 28, 2021
Join us for this Sunday's Third Sunday of Lent service.
The Chaplain Chronicles will continue with Pastor Donald's theme, "To Lose and To Save: The Chaplain Chronicles #3."  Our focus text for this Sunday will be Mark 8:31-38 as we hear Jesus tell his disciples to take up their cross and follow in his footsteps.
The wonderful Lester Wakefield will be our liturgist and Pianist Albert Mendoza will provide beautiful service music for our theme.  Albert will also accompany our singers Susan Aldrich, Regina Colombo, and Matt Ellison.