SUNDAY WORSHIP
March 26, 2023
Fifth Sunday in Lent
Join us at 10:00am in our Sanctuary for an in-person service of worship or tune into our online service presented via YouTube.
For this Fifth Sunday in Lent, Pastor Donald will be exploring the meaning of hope and, "How to Get Back UP!" as he reflects on two amazing stories – the valley of dried up bones in Ezekiel 37:1-14 and the raising of Lazarus found in John 11:1-45.
We are continuing to receive your donations for the second of our 5-for-5 special offerings for 2023, One Great Hour of Sharing. Contributions may be made by using the special envelope provided on the table at the entrance to the Sanctuary or electronically, using the DONATE link on our website: www.sanmarinoucc.org.
SEARCHLIGHTS AND PENLIGHTS
Stillspeaking Devotional by Martin B. Copenhaver
"The discerning person looks to wisdom,
but the eyes of the fool to the ends of the earth." – Proverbs 17:24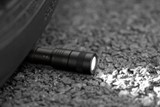 Sister Helen Prejean, the Roman Catholic nun who wrote the book Dead Man Walking, said in a lecture, "I'm always asking God for a searchlight. But, instead, God gives me a penlight."
I nodded my head because that has been my experience, as well. I am always looking for the searchlight that lets me see every turn in the road and how the journey ends even before I start. You see, I am a planner by nature. I'm the guy who carries around a multi-year calendar that includes events or commitments three years from now. I want to see as far ahead as I possibly can. So, in one way or another, I am always asking for a searchlight.
Instead, most of the time, God gives me something more like a penlight, which offers just enough illumination to see where I can plant my foot next—but no more. Walking by penlight forces one to be patient with the unknown and to exercise a bit of trust. And that can be challenging.
Even when I was young, I wanted the searchlight and had to learn how to walk by penlight. When I, or another member of my family of origin, was consumed with a decision and uncertain how to proceed, my mother would say, "When the time comes, it will be clear." When I was young, I resisted her counsel. I had difficulty with the "when the time comes" part and, to be honest, I still do. How about now? What's wrong with now?
Now that I am older, however, when I am impatient with the slow unfolding of events, I can still hear my mother's voice say, "When the time comes, it will be clear." And, over time, I've learned that she was right.
Prayer: God, if I can't have the searchlight, show me how to walk by penlight.
Asian Americans Advancing Justice Southern California
Pastor Donald, Thank you for your continued support. I hope you and the rest of the congregation are doing well. We wouldn't be able to do the work that we do without your partnership. Sorry for the late acknowledgement letter for your 2022 contribution. Thanks to your support, we are able to provide free legal clinics and services, bystander intervention trainings and advocate for policy. In the last legislative session, we were able to secure over $700M for our communities through several legislative initiatives.
The Nature Conservancy
Supporters like you are critical to this work – thank you for your commitment to protecting nature. In the face of a changing climate, biodiversity loss, and population growth, nature in California needs us now more than ever. All the challenges ahead of us or significant, they are solvable. With your help, TNC is working to save the state's iconic forests from wildfire, conserve precious water resources, connect wild spaces to provide habitat for plants and wildlife, and much more.
Friends In Deed
We could not do what we do without people like you! Thank you for helping us to make life better for people who make unthinkable choices because they have run out of better options. We appreciate you and your support of our work!
Foothill Unity Center
Thank you for your generous donation. Your contribution significantly impacts the lives of housed and unhoused, low-income individuals and families that we serve in our community. To date, 34% of families accessing our services are new to the Center, which is 31% more individuals than we served in 2019, pre-pandemic times. We see our community's increase in need and with your help continue to address the impact of the COVID-19 pandemic. Your generosity allows us to continue to work for the health and well-being of our community members. Your gift brings hope.
Aid Africa
Thank you for your generous donation to help improve the lives of the rural families in Northern Uganda. The money you give turns into tangible items that improve the lives of very poor people. Aid Africa supplies materials, expertise and especially education. None of our projects would be successful without instruction on their implementation and use and the labor of the villagers. more
Open and Affirming Coalition
Thank you for your generous donation to the Open and Affirming Coalition of the United Church of Christ. This time of year inspires much reflection and thoughtful meditation and right now, above all, we feel gratitude. You, our donors, are invaluable to us and our work. ... Wishing you every blessing and the deepest joy, Andrew G. Lang, Executive Director
Peppermint Ridge
Pastor Shenk:  Thank you so much for your recent gift.  That was so very generous.  I can hardly wait until I can come and thank you in person.  I hope you and all your congregants are safe and healthy during this time.  It is a crazy time for sure.  Thank you for remembering the Ridgers. My Best, Tracy Mauser Peppermint Ridge, Director of Major Gifts
Hoving Home
Thank you for your generous gift this season! We watch God continue to work miracles in the lives of the ladies in our Homes [there are five across the nation]. Your generosity gives women with difficult pasts a personal experience of the joy and hope found in walking with Christ at Christmas and throughout the year. You're changing lives, you're transforming families, and you're bringing glory to God through your partnership. Thank you!