SUNDAY WORSHIP
May 28, 2023 – PENTECOST SUNDAY
Join us at 10:00am in our Sanctuary for an in-person service of worship or tune into our online service presented via YouTube.
This Sunday we celebrate the Church's birthday known as PENTECOST!  Rev. Donald will reflect on the story of Pentecost as found in Acts 2 with his theme, "Gathered in the Spirit."
For our in-person service, Connie Gililland will be our liturgist and Susan Aldrich will lead us in singing.  Many thanks to our online liturgist Kim Van Horsen and all of our musicians, including Albert, Susan, Matt, Faith, and our Associate Director of Music Wyatt who provide music for our online services.  We are always grateful to Wyatt for his wonderful editing of our online service, as well.
BABBLE
Stillspeaking Devotional by Quinn Caldwell
And the Lord said, "Look, they are one people, and they have all one language; and this is only the beginning of what they will do; nothing that they propose to do will now be impossible for them. Come, let us go down, and confuse their language there, so that they will not understand one another's speech." (Genesis 11:1-9)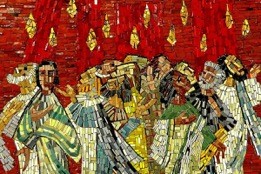 Somebody has probably told you that the story of the Tower of Babel is a story about punishment. I think they were wrong.
This is how the ancients explained the diversity in the world. Reading it as a story about punishment presupposes that diversity of language or culture is a negative thing. If, on the other hand, one thinks such diversity is good, then Babel becomes the story of a gift—a fraught gift, perhaps, but a gift.
Pentecost is often paired with Babel. One traditional way of linking the two is to say that Pentecost undid Babel: at Babel, our hubris brought about the punishment of diversity, while on Pentecost, the Spirit removed the punishment and allowed us to communicate again.
I think that instead of undoing it, Pentecost completed Babel. If diversity of language and culture was the first gift, then the second was the ability to hear others' languages and understand them. At Babel, diversity; at Pentecost, the ability to harness it for the reign of God.
There are a lot of people out there who talk and think and act just like you do, but most of them don't. That diversity has never been easy to live with, but ever since Pentecost, we've known this: it's not only a gift, but the stuff that the Realm of God is made of.
Prayer:  God, grant me the grace both to sing your praises, and to hear others singing them in every tongue and life I encounter. Amen.
Asian Americans Advancing Justice Southern California
Pastor Donald, Thank you for your continued support. I hope you and the rest of the congregation are doing well. We wouldn't be able to do the work that we do without your partnership. Sorry for the late acknowledgement letter for your 2022 contribution. Thanks to your support, we are able to provide free legal clinics and services, bystander intervention trainings and advocate for policy. In the last legislative session, we were able to secure over $700M for our communities through several legislative initiatives.
The Nature Conservancy
Supporters like you are critical to this work – thank you for your commitment to protecting nature. In the face of a changing climate, biodiversity loss, and population growth, nature in California needs us now more than ever. All the challenges ahead of us or significant, they are solvable. With your help, TNC is working to save the state's iconic forests from wildfire, conserve precious water resources, connect wild spaces to provide habitat for plants and wildlife, and much more.
Friends In Deed
We could not do what we do without people like you! Thank you for helping us to make life better for people who make unthinkable choices because they have run out of better options. We appreciate you and your support of our work!
Foothill Unity Center
Thank you for your generous donation. Your contribution significantly impacts the lives of housed and unhoused, low-income individuals and families that we serve in our community. To date, 34% of families accessing our services are new to the Center, which is 31% more individuals than we served in 2019, pre-pandemic times. We see our community's increase in need and with your help continue to address the impact of the COVID-19 pandemic. Your generosity allows us to continue to work for the health and well-being of our community members. Your gift brings hope.
Aid Africa
Thank you for your generous donation to help improve the lives of the rural families in Northern Uganda. The money you give turns into tangible items that improve the lives of very poor people. Aid Africa supplies materials, expertise and especially education. None of our projects would be successful without instruction on their implementation and use and the labor of the villagers. more
Open and Affirming Coalition
Thank you for your generous donation to the Open and Affirming Coalition of the United Church of Christ. This time of year inspires much reflection and thoughtful meditation and right now, above all, we feel gratitude. You, our donors, are invaluable to us and our work. ... Wishing you every blessing and the deepest joy, Andrew G. Lang, Executive Director
Peppermint Ridge
Pastor Shenk:  Thank you so much for your recent gift.  That was so very generous.  I can hardly wait until I can come and thank you in person.  I hope you and all your congregants are safe and healthy during this time.  It is a crazy time for sure.  Thank you for remembering the Ridgers. My Best, Tracy Mauser Peppermint Ridge, Director of Major Gifts
Hoving Home
Thank you for your generous gift this season! We watch God continue to work miracles in the lives of the ladies in our Homes [there are five across the nation]. Your generosity gives women with difficult pasts a personal experience of the joy and hope found in walking with Christ at Christmas and throughout the year. You're changing lives, you're transforming families, and you're bringing glory to God through your partnership. Thank you!