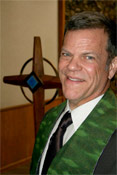 We invite you to worship with our faith community. We are a close-knit group of families, neighbors, and friends who strive to discover God's direction for our lives. We encourage searching minds and spirits as we celebrate together our faith in God, Jesus Christ, and the Holy Spirit, through the guidance of the Holy Scriptures. Emphasizing individual choice and conviction, members follow the Word of God according to the dictates of their own consciences. Our church is called "Congregational", reflecting our heritage in the New England Pilgrim experience in which local congregations retain control of their own decisions and direction. We are also a member church of the United Church of Christ denomination, which is dedicated to realizing God's just and loving purpose in the world.
Pastor Donald B. Shenk
Read More…
FOR VISITORS 
SUNDAY WORSHIP
10 a.m.
Communion Every First Sunday
WHY LOVE IS THE GREATEST
Stillspeaking Devotional by Bob Thompson
And now these three remain: faith, hope, and love.
But the greatest of these is love. – 1 Corinthians 13:13 (NIV)
I memorized 1 Corinthians 13, the whole thing, while attending boarding school in the Himalayan foothills as the son of missionaries. Its message has been ingrained in my brain for six-plus decades.
I've often found the last verse puzzling. Why does Paul say the greatest is love? Love is pretty cool, of course, but greater than faith and hope?
Faith is the heart of Christian belief. "For by grace you have been saved through faith," the apostle wrote in his letter to the Ephesians. What can be more important than faith?
And what about hope? How does anyone live a day without at least a glimmer of hope?
I'm not sure I would have dared to rank faith, hope, and love as Paul did. It's rather like ranking air, food, and water.
Then again, maybe the Holy Spirit's on to something here. Why? Because when you can't keep faith and you can't hold hope, you can always see love.
So many times I need this reminder. When I preach a funeral for a baby who died of SIDS. When I hear of the rise of the "nones" and wonder about the future of the church. When I see extreme poverty. When injustice and conflict seem to have the upper hand.
Sometimes when I have a hard time with faith or hope, I turn back to the love shown to me, especially and ultimately on the cross. And when others find faith and hope in short supply, I need to be the love they can see.
It's the greatest.
Prayer
Lord, help me notice those to whom I can show today that your love never fails. Amen.