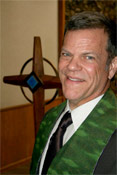 We invite you to worship with our faith community. We are a close-knit group of families, neighbors, and friends who strive to discover God's direction for our lives. We encourage searching minds and spirits as we celebrate together our faith in God, Jesus Christ, and the Holy Spirit, through the guidance of the Holy Scriptures. Emphasizing individual choice and conviction, members follow the Word of God according to the dictates of their own consciences. Our church is called "Congregational", reflecting our heritage in the New England Pilgrim experience in which local congregations retain control of their own decisions and direction. We are also a member church of the United Church of Christ denomination, which is dedicated to realizing God's just and loving purpose in the world.
THIS SUNDAY
August 21, 2022 – 11th Sunday after Pentecost
Join us at 10:00am in our Sanctuary for an in-person service of worship or tune into our online service presented via YouTube.
For the next two Sundays, we welcome the Reverend Stacy Thomas to lead our worship for the in-person services. During these Sundays that Rev. Donald is on vacation, Rev. Stacy will be joined by our worship team leaders, Susan Aldrich, Warren Scherffius, Albert Mendoza and Wyatt Beaudry.
For this eleventh Sunday after Pentecost, Rev. Stacy will be exploring Ruth's story as found in Ruth 2:1-23.
DEW
Stillspeaking Devotional by Quinn Caldwell
I will be like the dew to Israel; he shall blossom like the lily,
he shall strike root like the forests of Lebanon.
– Hosea 14:5 (NRSV)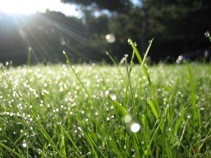 I live in a wet, green land, where trees guzzle water from the ground like frat boys drinking beer from a keg in a movie. Therefore, I find dew to be mostly an annoyance. Pretty sometimes, sparkly on a spider web or whatever. Mostly, it means hollering at the kids to stay on the sidewalk as we leave for school so they don't spend the day with their socks soaked to the ankles. I feel similarly afflicted when faced with some weird vending machine that gives change in dollar coins: so rich than I'm annoyed at having a heavy pocketful of cash.
Hosea's here to remind me that there are beings in the world who live lives so perilous that dew can be the difference between life and death. A layer of it allows desert plants to breathe without having the lifewater sucked right out of them by murderously dry air. By evaporating, it cools them in death-dealing heat. Being absorbed by leaves, it waters them when there is nothing that roots can do.
This is the sermon Jesus preached a hundred times: God may be as big as the universe, but the way God shows up is almost always small. Only the rich need God to show up as geysers and floods and waterfalls.
Only the sated sneer at the dew. The thirsty allow themselves to be saved by it.
Prayer
God, my belly may slosh, but we both know my life is desiccated plenty of other ways. Give me a small blessing, just a sprinkling. Just enough to save me, and turn me into a water-bearer in your garden. Amen.
FOOTHILL UNITY CENTER
Thank you for your generous donation. Your contribution significantly impacts the lives of housed and unhoused, low-income individuals and families that we serve in our community. To date, 34% of families accessing our services are new to the Center, which is 31% more individuals than we served in 2019, pre-pandemic times. We see our community's increase in need and with your help continue to address the impact of the COVID-19 pandemic. Your generosity allows us to continue to work for the health and well-being of our community members. Your gift brings hope.
AID AFRICA
Thank you for your generous donation to help improve the lives of the rural families in Northern Uganda. The money you give turns into tangible items that improve the lives of very poor people. Aid Africa supplies materials, expertise and especially education. None of our projects would be successful without instruction on their implementation and use and the labor of the villagers. more
FROM THE OPEN AND AFFIRMING COALITION
Thank you for your generous donation to the Open and Affirming Coalition of the United Church of Christ. This time of year inspires much reflection and thoughtful meditation and right now, above all, we feel gratitude. You, our donors, are invaluable to us and our work. ... Wishing you every blessing and the deepest joy, Andrew G. Lang, Executive Director
PEPPERMINT RIDGE
Pastor Shenk:  Thank you so much for your recent gift.  That was so very generous.  I can hardly wait until I can come and thank you in person.  I hope you and all your congregants are safe and healthy during this time.  It is a crazy time for sure.  Thank you for remembering the Ridgers. My Best, Tracy Mauser Peppermint Ridge, Director of Major Gifts
HOVING HOME
Thank you for your generous gift this season! We watch God continue to work miracles in the lives of the ladies in our Homes [there are five across the nation]. Your generosity gives women with difficult pasts a personal experience of the joy and hope found in walking with Christ at Christmas and throughout the year. You're changing lives, you're transforming families, and you're bringing glory to God through your partnership. Thank you!