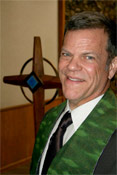 We invite you to worship with our faith community. We are a close-knit group of families, neighbors, and friends who strive to discover God's direction for our lives. We encourage searching minds and spirits as we celebrate together our faith in God, Jesus Christ, and the Holy Spirit, through the guidance of the Holy Scriptures. Emphasizing individual choice and conviction, members follow the Word of God according to the dictates of their own consciences. Our church is called "Congregational", reflecting our heritage in the New England Pilgrim experience in which local congregations retain control of their own decisions and direction. We are also a member church of the United Church of Christ denomination, which is dedicated to realizing God's just and loving purpose in the world.
Pastor Donald B. Shenk
Read More…
FOR VISITORS 
SUNDAY WORSHIP
10 a.m.
Communion Every First Sunday
Special Offering
When you invest in the vision supported by Strengthen the Church, your gift will plant new churches, awaken new ideas in existing churches, and help develop the spiritual lives of our youth and young adults.
We will launch the campaign for our Strengthen the Church special offering on May 26.  The offering will be received in church on June 9.