United in Spirit and inspired by God's grace, we welcome all, love all, and seek justice for all.
We
are
the
United
Church
of
Christ.
We invite you to worship with our faith community. We are a close-knit group of families, neighbors, and friends who strive to discover God's direction for our lives. We encourage searching minds and spirits as we celebrate together our faith in God, Jesus Christ, and the Holy Spirit, through the guidance of the Holy Scriptures. Emphasizing individual choice and conviction, members follow the Word of God according to the dictates of their own consciences. Our church is called "Congregational", reflecting our heritage in the New England Pilgrim experience in which local congregations retain control of their own decisions and direction. We are also a member church of the United Church of Christ denomination, which is dedicated to realizing God's just and loving purpose in the world.
FAILURE
Stillspeaking Devotional by Rachel Hackenberg
Such is the confidence that we have through Christ toward God.
Not that we are competent of ourselves to claim anything as coming from us;
our competence is from God.
– 2 Corinthians 3:4-5 (NRSV)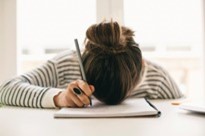 Competent. Is that a high bar or a low one?
For all the competence that comes from God, I still fail with high-but-not-surprising frequency. My capacity for competence is limited. Some days, it's a task I fail to accomplish. Some days, it's a relationship I disappoint. Some days, getting out of bed and facing the day is beyond my capacity. Some days, trusting love and extending grace in a world consumed by ego is too high a bar.
"I can do all things through Christ who strengthens me," wrote Paul in a different letter to the good people of Philippi.
But what if I can't?
"Can't" is a difficult, painful spiral of the spirit, a desolate place where the failures of life and the failures of faith are ghosts whispering constantly, "It's not possible." Redemption isn't possible. Grace isn't possible. Fulfillment isn't possible. Like death and taxes, the only thing those haunting voices are certain of is failure.
It's lovely that Paul can do all things through Christ, but many of us can't do all things or even most things. Especially when a sense of failure weighs us down.
And yet, even when Paul's confidence irritates and exacerbates those haunting choruses of "I can't," Paul knows something that our worst ghosts don't: the world's valuation of failure and God's valuation of competence exist on two completely different scales. The bootstrap by which I judge myself as a failure is not the love by which God knows me to be capable.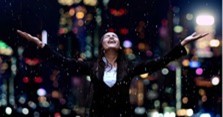 Prayer: Even when I fail, still I will rejoice.
FOOTHILL UNITY CENTER
Thank you for your generous donation. Your contribution significantly impacts the lives of housed and unhoused, low-income individuals and families that we serve in our community. To date, 34% of families accessing our services are new to the Center, which is 31% more individuals than we served in 2019, pre-pandemic times. We see our community's increase in need and with your help continue to address the impact of the COVID-19 pandemic. Your generosity allows us to continue to work for the health and well-being of our community members. Your gift brings hope.
AID AFRICA
Thank you for your generous donation to help improve the lives of the rural families in Northern Uganda. The money you give turns into tangible items that improve the lives of very poor people. Aid Africa supplies materials, expertise and especially education. None of our projects would be successful without instruction on their implementation and use and the labor of the villagers. more
FROM THE OPEN AND AFFIRMING COALITION
Thank you for your generous donation to the Open and Affirming Coalition of the United Church of Christ. This time of year inspires much reflection and thoughtful meditation and right now, above all, we feel gratitude. You, our donors, are invaluable to us and our work. ... Wishing you every blessing and the deepest joy, Andrew G. Lang, Executive Director
PEPPERMINT RIDGE
Pastor Shenk:  Thank you so much for your recent gift.  That was so very generous.  I can hardly wait until I can come and thank you in person.  I hope you and all your congregants are safe and healthy during this time.  It is a crazy time for sure.  Thank you for remembering the Ridgers. My Best, Tracy Mauser Peppermint Ridge, Director of Major Gifts
HOVING HOME
Thank you for your generous gift this season! We watch God continue to work miracles in the lives of the ladies in our Homes [there are five across the nation]. Your generosity gives women with difficult pasts a personal experience of the joy and hope found in walking with Christ at Christmas and throughout the year. You're changing lives, you're transforming families, and you're bringing glory to God through your partnership. Thank you!