Welcome to San Marino UCC

Status of Re-opening
Dear Friends,
Two weeks ago I wrote to you about our church life during coronavirus.
I continue to welcome your responses about any part of our church life that has changed including how to restructure our various mission projects.
In the meantime, California regulations are allowing churches to resume regular services.  There are many restrictions including no singing, group responses, or socializing.  Your Pastor Donald, Office and Facilities Manager Kim, Chair of Trustees David, and I, your Moderator, have discussed this possibility.  With Donald's chaplain responsibilities, which don't end until mid-September, he would not be able to do both an online and an in-person service.  We believe there are a number of people who are not ready to return to any group gatherings, particularly as they reside in one of the highest risk areas.  We also do not want to overwhelm Toy with the additional cleaning responsibilities.
Our Preschool Director Janet is continuing to prepare for when she will be able to reopen the Preschool at least with partial numbers. Kim maintains contact with our AA groups and other churches.  So far none of them have wanted to return either.  We will keep you informed of any further changes and greatly appreciate your continuing financial assistance.
Blessings,
Pat Bell, Moderator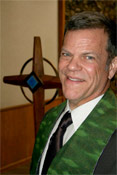 We invite you to worship with our faith community. We are a close-knit group of families, neighbors, and friends who strive to discover God's direction for our lives. We encourage searching minds and spirits as we celebrate together our faith in God, Jesus Christ, and the Holy Spirit, through the guidance of the Holy Scriptures. Emphasizing individual choice and conviction, members follow the Word of God according to the dictates of their own consciences. Our church is called "Congregational", reflecting our heritage in the New England Pilgrim experience in which local congregations retain control of their own decisions and direction. We are also a member church of the United Church of Christ denomination, which is dedicated to realizing God's just and loving purpose in the world.
Pastor Donald B. Shenk
Read More…
Exploring with Pastor Donald Shenk: