Welcome to San Marino UCC
United in Spirit and inspired by God's grace, we welcome all, love all, and seek justice for all.
We are the United Church of Christ.
During this time of the pandemic when it is safer to not meet in person, our Sunday Worship services are presented on YouTube every Sunday available at 10am. Check back here for links or check our Facebook page.
STILLSPEAKING DEVOTIONAL: HEY SIRI—SET A REMINDER TO TALK ABOUT GOD
by John Edgerton
Fix these words of mine in your hearts and minds; tie them as symbols on your hands and bind them on your foreheads. Teach them to your children, talking about them when you sit at home and when you walk along the road, when you lie down and when you get up. – Deuteronomy 11:18-19 (NIV)
We should bind the word of the Lord on our hands, so that our work reflects it. God's word should be on our forehead so that everyone we encounter can hold us accountable to living it.
A tall order, even before entering this time of global pandemic.
A year plus has gone by with our circles of contact drawn close. It's all well and good to affix God's words to our doors. But they can't engender much conversation if I have no dinner parties and no house guests for 14 months.
As life opens up again and circles of contact are drawn wider, we can turn to God's counsel to the faithful: we should talk about where we have found God in this time. You know, with other people. Strange, right?
Conversations about faith can be holy, tender, life-changing things. When two (or more) people share from their souls about how the holy has entered into their lives, the world shifts in deep and unexpected ways.
But it takes preparation. So before that backyard dinner, take a hint from Deuteronomy.  Leave yourself some reminders. Write "talk about God" on the palm of your hand. Leave a sticky note you can't miss on your door. Set reminders on your phone, one for when you get up in the morning and one before you lie down to sleep at night.
Help yourself remember to talk about God. You'll be glad you did.
Prayer
God, help me to know you, and help me hear your voice in another's story.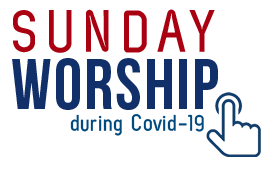 COMING UP
SUNDAY WORSHIP
MAY 16, 2021
Join us via YouTube for this Sunday's service of worship.
For this Seventh Sunday of Easter, our theme will be "A Life of Prayer."  Pastor Donald will reflect on Jesus's prayer for his disciples as found in John 17:6-19. He will also read a beautiful book by Douglas Wood, "Grandad's Prayers of the Earth."
We are so happy to have the freshly graduated Faith Van Horsen back as our liturgist for this Sunday.  Faith will also sing a lovely song by Ron Block to enhance our theme – "A Living Prayer."  Albert Mendoza will provide our service music and accompany our other singers as well, Susan Aldrich, Regina Colombo and Matt Ellison.
Our thanks to our Master Technician Wyatt Beaudry, who is responsible for getting our service into its final shining form each week.