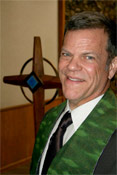 We invite you to worship with our faith community. We are a close-knit group of families, neighbors, and friends who strive to discover God's direction for our lives. We encourage searching minds and spirits as we celebrate together our faith in God, Jesus Christ, and the Holy Spirit, through the guidance of the Holy Scriptures. Emphasizing individual choice and conviction, members follow the Word of God according to the dictates of their own consciences. Our church is called "Congregational", reflecting our heritage in the New England Pilgrim experience in which local congregations retain control of their own decisions and direction. We are also a member church of the United Church of Christ denomination, which is dedicated to realizing God's just and loving purpose in the world.
Pastor Donald B. Shenk
Read More…
FOR VISITORS 
SUNDAY WORSHIP
10 a.m.
Communion Every First Sunday
TWO KINDS OF PEOPLE
Blessed are those who dwell in your house; they are ever praising you. Blessed are those whose strength is in you, whose hearts are set on pilgrimage. – Psalm 84:4-5
There are two kinds of people in the world: travelers and homebodies. Those who are always off in search of something new, and those who invest in their own hospitable dwelling. Innovators and nest-makers. You know who you are.
The same could be said of the Church. There are people—and whole congregations—whose gift is to create welcoming and cozy communities in which people can rest, and work, and pray. There are people—and whole congregations—whose gift is to venture out, beyond the confines of buildings and tradition, to explore new possibilities of faith.
Sometimes these two groups see themselves in opposition to one another. The homebodies scoff at the unorthodox ideas of the travelers. The innovators sneer at the nest-makers' investment in institutions. Both have been heard to say the others are not "real" Christians.
Psalm 84 settles the score. The ones who stay home to sing God's praises all day? They're blessed. The ones who call on God's strength to set out for points unknown? They're blessed too. And perhaps the two need one another.
Most travelers first heard God's call in community. And every house of the Lord was founded by someone who ventured out in faith.
There are two kinds of people in the world: those who are blessed and those who are also blessed. May the Church remember.
Vince Amlin, Stillspeaking Devotional writer
Prayer
You who founded an institution on the rock of Peter and you who promised a transformation so radical that not one stone would be left on another: bless us.