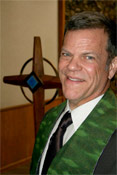 We invite you to worship with our faith community. We are a close-knit group of families, neighbors, and friends who strive to discover God's direction for our lives. We encourage searching minds and spirits as we celebrate together our faith in God, Jesus Christ, and the Holy Spirit, through the guidance of the Holy Scriptures. Emphasizing individual choice and conviction, members follow the Word of God according to the dictates of their own consciences. Our church is called "Congregational", reflecting our heritage in the New England Pilgrim experience in which local congregations retain control of their own decisions and direction. We are also a member church of the United Church of Christ denomination, which is dedicated to realizing God's just and loving purpose in the world.
Pastor Donald B. Shenk
Read More…
FOR VISITORS 
SUNDAY WORSHIP
10 a.m.
Communion Every First Sunday
ANNUAL MEETING-Sunday, January 27
Review of 2018 and Looking Ahead for 2019
Join us for our most important meeting of the year as we give our thanks to those who have given so much of themselves to our church throughout the past year and vote on our budget for the New Year. Bring a dish or two to share and join in the fun and the fellowship.
We will have both our worship service and our meeting in Crist Hall, the site of our original church. To allow you time to read the budget and report well in advance of our vote, the Annual Report will be distributed the Sunday prior to the meeting. The budget will be available two weeks prior.
Report contributions should be sent electronically to Kim in the office by Friday, January 11.