W
e invite you to worship with our faith community. We are a close-knit group of families, neighbors, and friends who strive to discover God's direction for our lives. We encourage searching minds and spirits as we celebrate together our faith in God, Jesus Christ, and the Holy Spirit, through the guidance of the Holy Scriptures. Emphasizing individual choice and conviction, members follow the Word of God according to the dictates of their own consciences. Our church is called "Congregational", reflecting our heritage in the New England Pilgrim experience in which local congregations retain control of their own decisions and direction. We are also a member church of the United Church of Christ denomination, which is dedicated to realizing God's just and loving purpose in the world.
THIS SUNDAY
Join us at 10:00am in our Sanctuary for an in-person service of worship or tune into our online service presented via YouTube.
For this ninth Sunday after Pentecost, we will be exploring both Luke 12:32-40 ("for where you treasure is, there your heart will be also") and Hebrews 11:1-3, 8-16 ("Now faith is the assurance of things hoped for, the conviction of things not seen").  Pastor Donald's theme (as he prepares to go on vacation) is, "Pack Smart!"
PART OF A BALANCED BREAKFAST
Stillspeaking Devotional by John Edgerton
Be very careful, then, how you live—not as unwise but as wise, making the most of every opportunity, because the days are evil. Therefore do not be foolish, but understand what the Lord's will is. Do not get drunk on wine, which leads to debauchery. Instead, be filled with the Spirit, speaking to one another with psalms, hymns, and songs from the Spirit. – Ephesians 5:15-19a (NIV)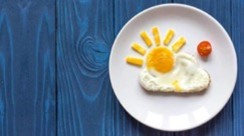 During the pandemic, I learned to be better about self-care and work/life balance. In other times of my life, I would blow past a healthy work schedule and push myself near exhaustion. I would do this particularly when I was working on an important social justice cause. "It's just for a little while," I would tell myself, "I'll catch up on sleep later."
But then came the pandemic. Then came month after month with no childcare and a constantly shifting landscape of life. Then came a bruising and historically turbulent election. Then came a resurgence and a variant and an insurrection and a partridge in a pear tree. Just living my life on a day-to-day basis pushed me near exhaustion. I couldn't push myself any farther—no matter how important the cause—because I was already at my limits.
That humbled me.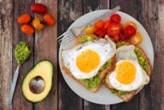 It humbled me that whether I had a good day or not depended on whether I ate a healthy breakfast, whether I kept to my social-media limits, whether I held to my prayer practices, whether I resisted over-indulging in binge-watching British murder mysteries (Shetland, for me).
We have been living through evil days, as Ephesians puts it. And so we must not only be careful, but very careful. Eating a balanced breakfast may not seem like crucial spiritual wisdom, but it is.
Prayer:  God, help me to be wise.
FOOTHILL UNITY CENTER
Thank you for your generous donation. Your contribution significantly impacts the lives of housed and unhoused, low-income individuals and families that we serve in our community. To date, 34% of families accessing our services are new to the Center, which is 31% more individuals than we served in 2019, pre-pandemic times. We see our community's increase in need and with your help continue to address the impact of the COVID-19 pandemic. Your generosity allows us to continue to work for the health and well-being of our community members. Your gift brings hope.
AID AFRICA
Thank you for your generous donation to help improve the lives of the rural families in Northern Uganda. The money you give turns into tangible items that improve the lives of very poor people. Aid Africa supplies materials, expertise and especially education. None of our projects would be successful without instruction on their implementation and use and the labor of the villagers. more
FROM THE OPEN AND AFFIRMING COALITION
Thank you for your generous donation to the Open and Affirming Coalition of the United Church of Christ. This time of year inspires much reflection and thoughtful meditation and right now, above all, we feel gratitude. You, our donors, are invaluable to us and our work. ... Wishing you every blessing and the deepest joy, Andrew G. Lang, Executive Director
PEPPERMINT RIDGE
Pastor Shenk:  Thank you so much for your recent gift.  That was so very generous.  I can hardly wait until I can come and thank you in person.  I hope you and all your congregants are safe and healthy during this time.  It is a crazy time for sure.  Thank you for remembering the Ridgers. My Best, Tracy Mauser Peppermint Ridge, Director of Major Gifts
HOVING HOME
Thank you for your generous gift this season! We watch God continue to work miracles in the lives of the ladies in our Homes [there are five across the nation]. Your generosity gives women with difficult pasts a personal experience of the joy and hope found in walking with Christ at Christmas and throughout the year. You're changing lives, you're transforming families, and you're bringing glory to God through your partnership. Thank you!