SUNDAY WORSHIP

December 4, 2022
THE SECOND SUNDAY OF ADVENT
Join us at 10:00am in our Sanctuary for an in-person service of worship or tune into our online service presented via YouTube.
This Sunday, we continue our celebration of ADVENT.  We will light the second candle on our Advent wreath as we consider the peace that we want God to bring to our world and our lives.  Rev. Donald will explore the Advent passages of Isaiah 11:1-10 and Matthew 3:1-12 with his theme, "Stumps and Shoots."
Elsie Stanley will be our Liturgist this Sunday and Albert Mendoza will join Matthew Ellison to lead us in music.  As always, our thanks to Master Technician Wyatt Beaudry who keeps everything running beautifully for both our in-person and online services!
LABS CAN'T HELP BUT LEAP
Stillspeaking Devotional by Matt Fitzgerald
"You who are enthroned upon the cherubim, shine forth."
Psalm 80:1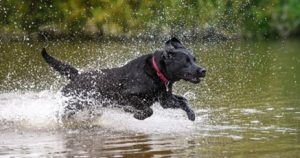 It was a hot day. Lake Michigan was glass. Standing next to me was a man with a black Lab. The dog was dying to get in the water. Quivering. Doing its best not to bark, but failing, an excited yip escaped its lips.
The man gave in, launched a tennis ball into the lake. The dog was off like an Olympian, breaking the lake's surface with a crack and then back with the ball ten seconds later. He did it again. And again, and again.
It is what he was made for. Retrievers chase tennis balls like stars shine in the midnight sky. Both of these are beautiful. Neither is surprising. Dogs and stars are tied to their natures. Everything is.
It is God's nature to be praised. God is above. We're below. God is perfect. We're broken. God is enthroned upon the cherubim. We're walking through the muck. God made us. We sing God's praises. It's the nature of things.
Until it isn't. Labs and stars can't break their essence, but Christmas proves that God can. God exists to be worshiped, but at Christmas God comes to serve us. God towers above, but at Christmas, Christ is born below. God is wholly other, but at Christmas God becomes one of us. God is perfect and powerful, but at Christmas Christ comes as an infant, inarticulate, unformed, weak, dependent.
God is not limited by anything. Including might, including strength, including God's very nature. At Christmas Christ proves God's might by contradicting it. In the manger he establishes God's majesty by shedding it. In the manger, Christ shows God's transcendent power by surrendering it.
Prayer
Dear God let our jaws drop in wonder, let us worship, even as you serve us.
FRIENDS IN DEED
We could not do what we do without people like you! Thank you for helping us to make life better for people who make unthinkable choices because they have run out of better options. We appreciate you and your support of our work!
FOOTHILL UNITY CENTER
Thank you for your generous donation. Your contribution significantly impacts the lives of housed and unhoused, low-income individuals and families that we serve in our community. To date, 34% of families accessing our services are new to the Center, which is 31% more individuals than we served in 2019, pre-pandemic times. We see our community's increase in need and with your help continue to address the impact of the COVID-19 pandemic. Your generosity allows us to continue to work for the health and well-being of our community members. Your gift brings hope.
AID AFRICA
Thank you for your generous donation to help improve the lives of the rural families in Northern Uganda. The money you give turns into tangible items that improve the lives of very poor people. Aid Africa supplies materials, expertise and especially education. None of our projects would be successful without instruction on their implementation and use and the labor of the villagers. more
FROM THE OPEN AND AFFIRMING COALITION
Thank you for your generous donation to the Open and Affirming Coalition of the United Church of Christ. This time of year inspires much reflection and thoughtful meditation and right now, above all, we feel gratitude. You, our donors, are invaluable to us and our work. ... Wishing you every blessing and the deepest joy, Andrew G. Lang, Executive Director
PEPPERMINT RIDGE
Pastor Shenk:  Thank you so much for your recent gift.  That was so very generous.  I can hardly wait until I can come and thank you in person.  I hope you and all your congregants are safe and healthy during this time.  It is a crazy time for sure.  Thank you for remembering the Ridgers. My Best, Tracy Mauser Peppermint Ridge, Director of Major Gifts
HOVING HOME
Thank you for your generous gift this season! We watch God continue to work miracles in the lives of the ladies in our Homes [there are five across the nation]. Your generosity gives women with difficult pasts a personal experience of the joy and hope found in walking with Christ at Christmas and throughout the year. You're changing lives, you're transforming families, and you're bringing glory to God through your partnership. Thank you!