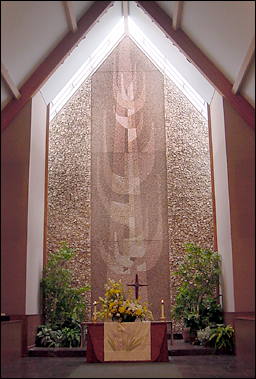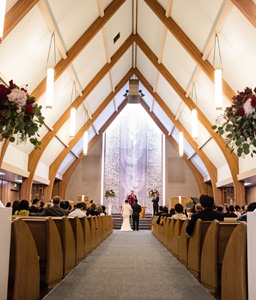 We welcome all who wish to celebrate their love with a wedding ceremony.
Our beautiful sanctuary is an elegant setting for all occasions. The "Tree of Life" mosaic at the front of the sanctuary was designed by renowned sculptor, painter, and conceptual artist Tom Van Sant in 1959 and creates a spectacular backdrop during the ceremony and for photographs.
Download the Ceremony Brochure
FREQUENTLY ASKED QUESTIONS
How many people can the church hold?
A maximum of 200 people, but a comfortable number is 175. There are 26 pews in the church. Each pew can hold up to approximately 7-8 adults sitting close together. Two rows of chairs can be placed in the back of the sanctuary, and one chair can be placed at the outer end of each pew. Another option is to place chairs in front of the pews as well.
May we use a runner?
You may use a runner down the main aisle (you'll need one approximately 64′ long). However, the church does not provide a runner and we do not encourage the use of one as it is very difficult to anchor it on the carpeted aisle and steps. If, however, you are having a flower girl drop real flower petals, you must use a runner to protect the carpet. If you do choose to use a runner, you are responsible for providing it and disposing of it.
May we attach flowers/decorations to the pews?
You may attach flowers and decorations to the pews, but only if you use an approved plastic clip. No tape or adhesive of any kind may be used on the pews. The church's wedding coordinator can show you an example of a clip which most florists carry.
Is a kneeling bench available?
Yes, a kneeling bench is included in the price.
How many people can fit in the reception hall?
Sit down dining: 64 people maximum
No tables/chairs: 109 people maximum
How many tables/chairs are available?
There are 10 (8'x3.5′) rectangular tables and 4 small square tables.
There are 175 folding chairs.
Please call the church office with any other questions and to make arrangements or email us.