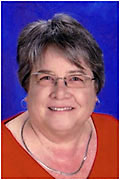 PRESCHOOL NEWS
by Janet Beaulieu, Preschool Director

Happy Mother's Day to all of our mothers. The San Marino Congregational Church Preschool celebrates your choice to be mothers. It is a very important job. We are here to support the needs of your child in their early education and their personal growth and well-being.

We will be celebrating cultures at our annual International Day May 19th. The children will sing and share a food potluck of many cultures. This is one of our favorite family celebrations.

After the Memorial Day holiday, we will be winding down for our end-of-the-year picnic at Lacy Park, May 31st. The teachers will provide games and activities for the children. The parents will enjoy a potluck and fellowship.

Our teachers will work the rest of the week training and getting ready for our seven-week summer school program. This school year has gone by so fast. It has been an amazing year. The children have grown so much and learned so many things. Our staff has been excellent in the things they do. They have been a helping team to me and together we have accomplished so much.

All of our staff will be returning for the next school year. I have been so fortunate to lead the best staff. Each of these teachers bring amazing gifts to our program and they work together so very well.
Blessings,
Janet Beaulieu, Preschool Director