SOUTHERN CALIFORNIA NEVADA CONFERENCE
Annual Gathering 2017 - June 2-3 at Chapman University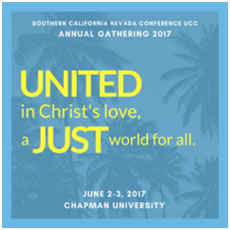 Mark your calendars now and plan to attend the 2017 Annual Gathering of the United Church of Christ in Southern California and Nevada on Friday and Saturday, June 2-3, 2017 at Chapman University.

This year's theme will be "UNITED in Christ's love, a JUST world for all."  Our keynote speaker will the Rev. Dr. John C. Dorhauer, the General Minister and President of the United Church of Christ. He will be participating in worship where he will be our keynote speaker on Saturday morning.

Please let Pastor Donald know if you would like to attend the Annual Gathering, as the church would like to help you out with registration costs.
STRENGTHEN THE CHURCH           
Special Offering - JUNE 4TH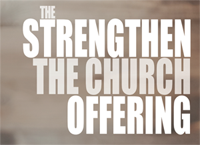 When you invest in the vision supported by Strengthen the Church, your gift will plant new churches, awaken new ideas in existing churches, and help develop the spiritual lives of our youth and young adults.
Lester Wakefield will share more on this important program when we launch the campaign for our Strengthen the Church special offering on May 11, which will be received in church on June 4.

leap of faith: ADULT BIBLE STUDY
Wednesday, june 7th

For the first time, LEAP of Faith will be continuing its studies over the summer.  Pastor Donald will lead us in study through June and the first Wednesday in July and then Carol Barrett will begin teaching on the last Wednesday in July and continuing through October while Pastor Donald is on sabbatical.
This year we will be meeting in The Wonder Room which can be accessed through the outside door to Room B near the double doors at the eastern end of the breezeway off the parking lot.
All are welcome!

LUNCH BUNCH
Monday, JUNE 12th - 11:30am

The Lunch Bunch will be meeting at The Only Place in Town, 110 E Sierra Madre Blvd, Sierra Madre on Monday, June 12 at 11: 30a.m.
We would really enjoy your company!
-Pat Bell
food forward
How You HAVE Helped!


Food Forward was recently awarded a commendation from the US Environmental Protection Agency, alongside myriad national food suppliers and purchasers like Wegmans, Disneyland, MGM Resorts and UC Davis, for the environmental impact resulting from our food recovery work in 2013-17.
One of the things we LOVE about [FF's] UCLA partnership is that it is manned and woman-ed by students who are feeding other students. What many people don?t realize is that there is a high percentage of students who experience food insecurity. Current estimates show this number to be roughly 20% at UCLA, with students choosing to buy books over food. Food Forward's program gives these folks a hand by creating an eco-system where the UCLA community can help its own who are struggling to make ends meet.
Our next FRUIT PICK is Saturday, JUNE 17th.

LUNCHES FOR THE HOMELESS
TUESDAY, JUNE 20TH
(THIRD TUESDAYS)
Union Station Homeless Services Sack Lunch Project
Here's a way to be of service through your beloved church! Union Station Homeless Services is part of a premier group of human services agencies in L.A. County that are leading the way to ending homelessness in our community. Union Station is the San Gabriel Valley's largest social service agency assisting homeless and very low-income adults and families. We are looking to be of service to Union Station by helping out with their programs that provide food for those in need. Our mission will be to provide sack lunches. We will come together at the church kitchen third Tuesday of the month to make the lunches, which will then be taken to the station for distribution. Please let Marcia Albrecht know if you can help prepare the lunches (all food will be provided and in the kitchen). You can email her at: mla2575@aol.com.

SPIRITUAL PRACTICES GROUP
Saturday, June 24th
Light for the Path
Will gather in the Narthex at 10:30a.m. before embarking on a guided meditation led by Pastor Donald.
All are invited to join us in this loving time.

PILGRIM PINEs camp
"Branching Out – Connecting through Community"
Things to Look Forward to at Camp: Low Ropes Challenge Course Archery Arts and Crafts Hiking 40 Foot Climbing Wall Talent Show Swimming Campfires with S'mores Music with many voices! Challenge Course High Ropes

If you are not a mini through high school-aged person you can still have a Pilgrim Pines summer camp experience by being a volunteer counselor. Info and registration can be found online.        
Opportunities abound for a church summer camp experience at beautiful Pilgrim Pines in Yucaipa. More info plus registration is available online at www.pilgrimpinescamp.org. You can even find links and pictures on their Facebook Page.


Week 1, July 2-8 Minis through High School (C.I.T. week)
Week 2, July 9-15 Minis through High School (Creative Expressions week)
Week 3, July 16-22 Minis through High School (CYMC week)
Week 4, July 23-29 Minis through High School
(Outdoor Adventures)
SUMMER SOUNDS
Albert Mendoza Offering Piano Lessons


Our own brilliant pianist and incredibly patient and kind Albert Mendoza is offering a 6-Week "Try It Out" package of piano lessons available throughout the summer months during nights or weekends.  He'll give you six beginning piano lessons for $189 (that's $31.50 per each 45-minute session).  Lesson books and materials are included, scheduling is flexible and the lessons will be tailored to fit your own interests.
Sign up by June 10 to take advantage of the special discounted rate.
Contact Albert via email at:  albert.c.mendoza@hotmail.com or by calling (310) 867-3317.


DID YOU KNOW that when you shop at AmazonSmile, Amazon donates 0.5% of the purchase price to San Marino Congregational Church UCC?
Bookmark this link!
Amazon Smile and support us every time you shop.